January 15, 2014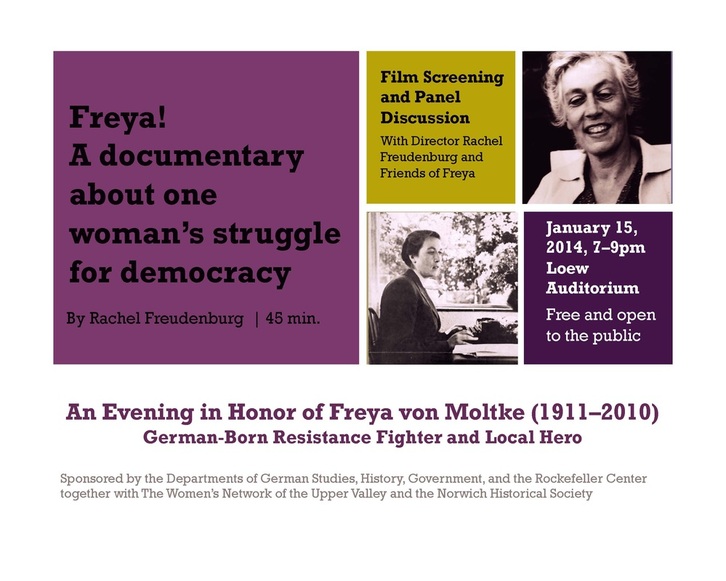 ---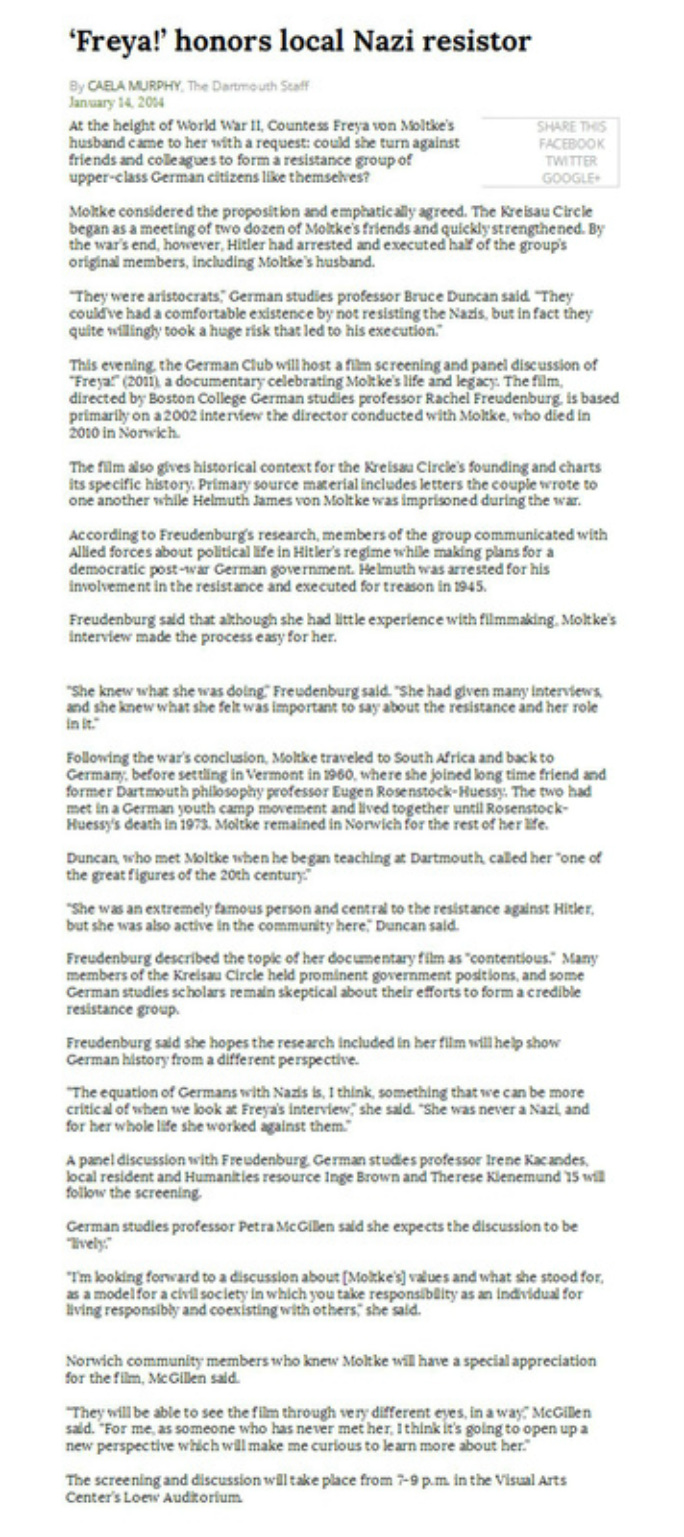 July 16, 2013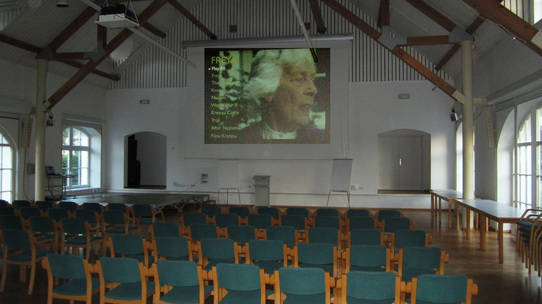 FREYA was shown in Krzyzowa as part of the International Summer Arts Project for young people from 15 to 26 years old, which has been running since 1996. Every year approximately 100 talented people from Central and Eastern Europe (Poland, Belarus, Ukraine, Russia, Lithuania and Germany) take part in the project. Both director Rachel Freudenburg and Business Manager Andreas Thomas were present for this screening which was followed by a lively question and answer session where sometimes strong emotions surfaced. We were impressed by the interest level and involvement of the audience.


---
July 2-5, 2013
FREYA to be aired on Vermont Community Access Television, CATV8
May 30, 2013
European premiere of FREYA in Krzyżowa as part of the the annual Freya von Moltke Foundation trip to Kreisau.
Tuesday, April 10, 2012, Wellesley College

Director Rachel Freudenburg, Boston College, will show FREYA at 4:30 pm in 120 Founders Hall at Wellesley College. Discussion following the film.
Tuesday, April 3, 2012, University of Connecticut

FREYA will be shown at 2 pm in the Room of the Class of 1947, Homer Babbidge Library at the University of Connecticut in Storrs, CT. This event is free and open to the public. The director will be present to introduce the film and respond to question from the audience.

Thursday, Nov. 10, 2011, Worcester Polytechnic Institute, Worcester, MA
FREYA will be shown at the Worcester Polytechnic Institute, Keven Hall 116, at 5pm on November 10, 2011, at the invitation of the WPI German Club. Admission is free and open to all. The director will be present to introduce the film and answer questions from the audience.

October 20, 2011, 9:15 pm, Yarrow Golf and Conference Resort, Augusta, Michigan

FREYA was screened at this year's Women in German Conference. For information on the Conference and the organization see:
www.womeningerman.org
.
May 22, 2011, 1:30 pm, Hibernian Cultural Center, Worcester

Announcement from Blue Pumpkin Productions
First Worcester Showing of Documentary Film on Freya von Moltke
On
Sunday afternoon, May 22, at 1:30
, at the
Hibernian Cultural Centre, 19 Temple St., Worcester, MA,
we're pleased to present the first central Massachusetts showing of Rachel Freudenburg's documentary:
FREYA
. Rachel Freudenburg will be on hand to conduct a Q & A following showing of the film.
General Admission: $10; Students: $5. Please reply if you are planning to attend so that we have an idea of how many people to expect.
bluepumpkinprod@gmail.com
or
508-799-7721
.
Dr. Freudenburg, a professor of German at Boston College, had been working on this film for several years, with the encouragement of Marc Smith and with his consultation. Its premiere showing was on January 23rd at the Goethe Institut-Boston, where it was the centerpiece of a Tribute to Freya, just one year after her death at the age of 98. Marc was also a featured speaker at that event.
March 24, 2011 at Boston College: